Saturday August 21st.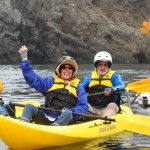 Join us on this exquisite journey.     We will travel across the channel in our own charted boat .  The sea life is thriving on this journey across the channel and we may even see some of the 28 species of whales and dolphins.   Once we arrive at the island we will start kayaking where we left off on our last trip.  We will be heading south, concentrating on some of the largest caves the island has to offer.  We will then kayak through the famous arch and visit the Northern Fur Seal rookery on the back side of the island.  Anacapa Island has the largest Brown Pelican Rookery in the United States which we will also visit.
 We are  excited about working with Blue Ocean Kayaks on making this one of  our best trips ever. Please visit Blue Ocean's web sit  www.blueoceankayaking.com and check out the details of the price, view their new boat and sign up for this trip.  You will also need to reserve your spot with me in advance as space for this trip is limited. 
  Things you should bring;  A change of cloths for the trip back and cloths to kayak in, (wet suits work well if you have one).  Snacks for the kayaks as well as lunch.  This is a full day.  You will be able to keep food on the boat,  so a small cooler is OK.  Bring lots of water and if you bring a camera, wrap it in a water proof bag or zip lock bag or 2.  I recommend bike gloves for your hands, a good hat and sunscreen as well.  If you have questions please contact us at  robert@goojai.com or susan@goojai.com Roberts cell (805)798-2810 / Susan's cell (805)701-0221.